What is SKEW JIG System?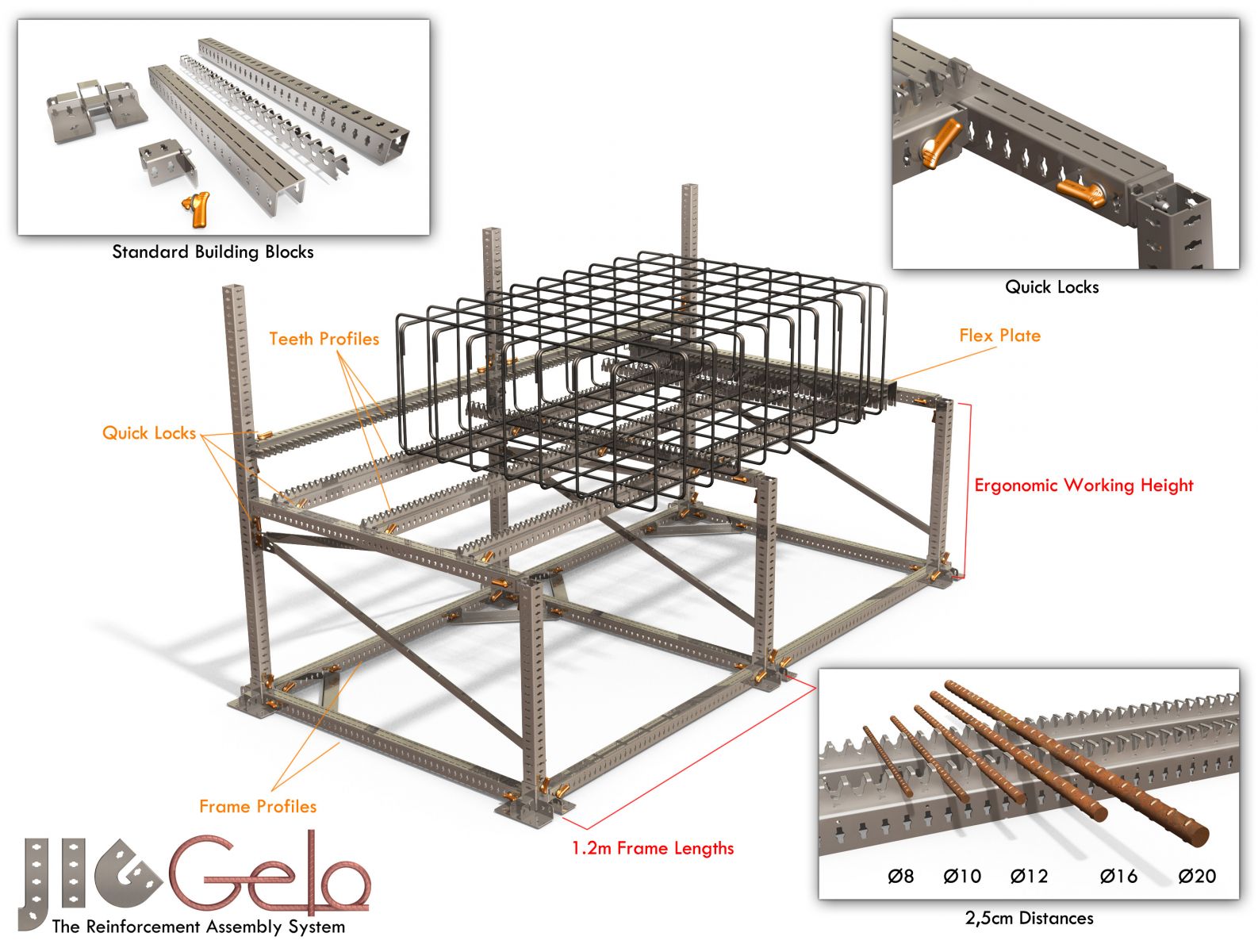 The SKEW JIG System is a flexible assembly system which can be used for positioning your bars and stirrups before tying or welding it. Basically it's an easily adjustable JIG, allowing you to assemble a wide variety of reinforcement elements. The System is a modular, flexible system that allows the steelfixer to assemble reinforcing bars quickly and structured into solid elements.

The SKEW JIG System (launched as "JigGelo" in 2009) consists of strong basic components. Building, adjusting and rebuilding the System making it flexible and easy in use.
The modular components are avaialble in various sizes, allowing you to build a Setup in a preferred working height. This makes it possible to assemble large elements and still maintain an ergonomic working posture. The specially designed gripping teeth profiles (25 mm or 1"  distances) ensure that the rebar, such as stirrups are positioned accurately. The rebar cages can be assembled quickly and precise. This leads to a much quicker overall assembly process and a reduction of failure costs. The JIG System is made of high quality materials, lasting for years to come.
---
Quick change modular system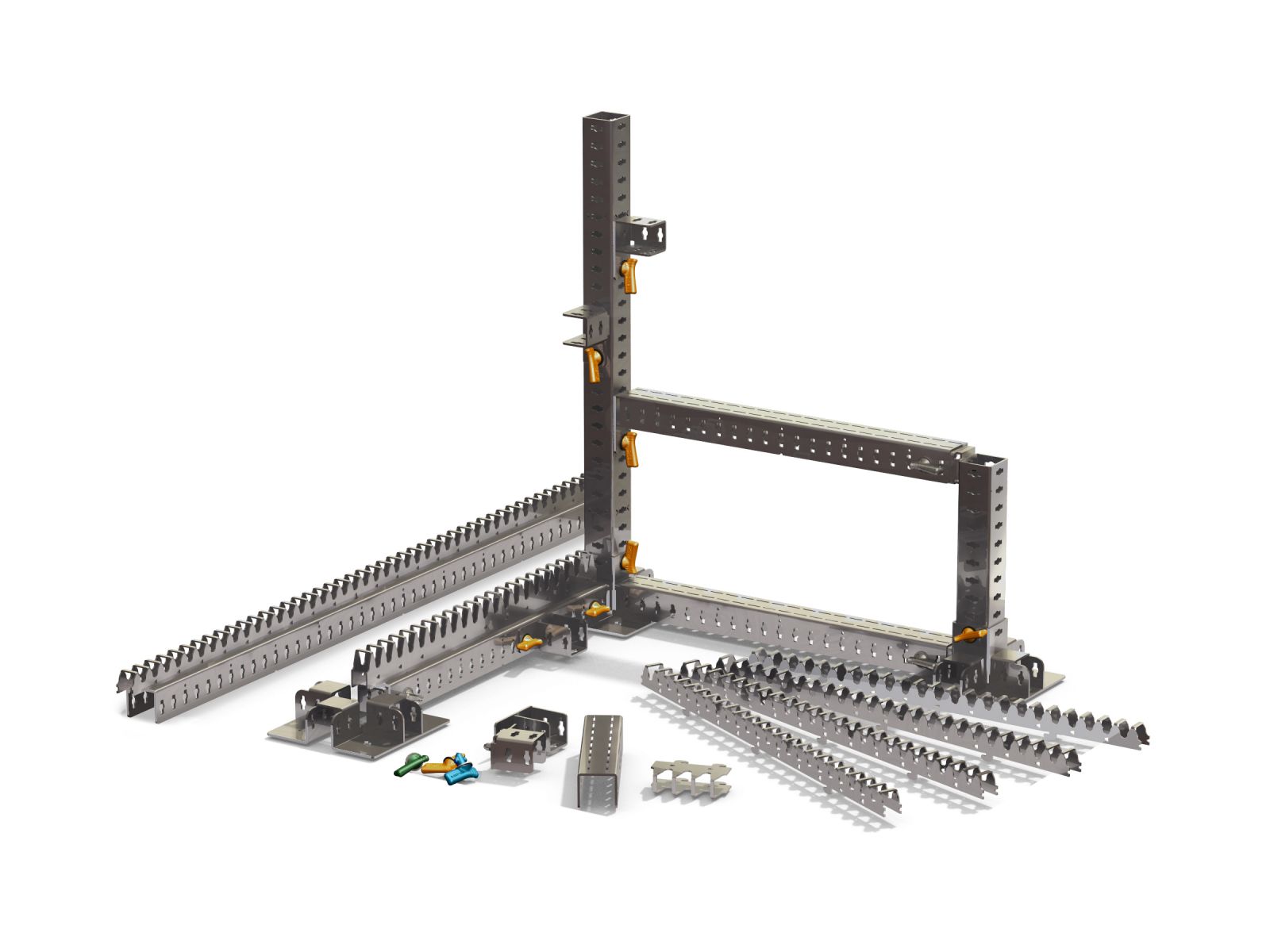 Constructing a Solution is easy: You don't have to be a technical expert to build up a Setup. Once constructed, SKEW JIG Setups can be quickly and easily modified, adapted, extended, split or dismantled and reassembled in any new configuration to suit your needs.
The quick locks make sure that the components are securely attached to each other and cannot move anywhere. Due to those quick locks, attaching the components is as easy as dismantling them.
The SKEW JIG System is a universal, lightweight, flexible modular framework system for daily use in concrete manufacturing. It is simple to adapt the system in line with changing demands to accommodate the diverse shapes and dimensions of concrete elements required over the course of a construction project. Because of its flexibility and durability the JIG System is not only useful for the short term but also for the long term.
---
Fast assembly system
With the SKEW JIG System it is easy to precisely position the rebar in the standard incremental grip of 25mm(or 1" ). Once the rebar is positioned, the user can fasten the reinforcement to create precise and perfectly square elements in a matter of minutes.

In the video below is shown how the JIG System provides a fast and accurate assembly procedure for high quality elements.
---
Ergonomics
The length of the legs determine the height of the JIG System. This makes it possible to assemble large elements and still maintain an ergonomic working height. SKEW JIG Setups contribute to the prevention of physical discomfort amongst employees at the workplace.
Examples of SKEW JIG Setup
Streamlined Assembly Process
The SKEW JIG Systems are developed to streamline an assembly procedure into an effective, LEAN production process. The Setups can evolve to tackle the day to day production, but also the week to week Projects for your reinforcement cage assembly. Transform your production hall into a state of the art, clear and ergonomic work environment